The Old Burgrave's House - the Chamber Hall
Organize your event in the most beautiful part of Vyšehrad - in the building of the Old Burgrave's House from the 18th century, adjacent to the former Ducal and Royal Acropolis and the wall-walk above Podolí and Vltava.

The Vyšehrad National Cultural Monument offers a hall for rent for your performance, concert, corporate event, conference, training, teambuilding, presentation for clients or private event.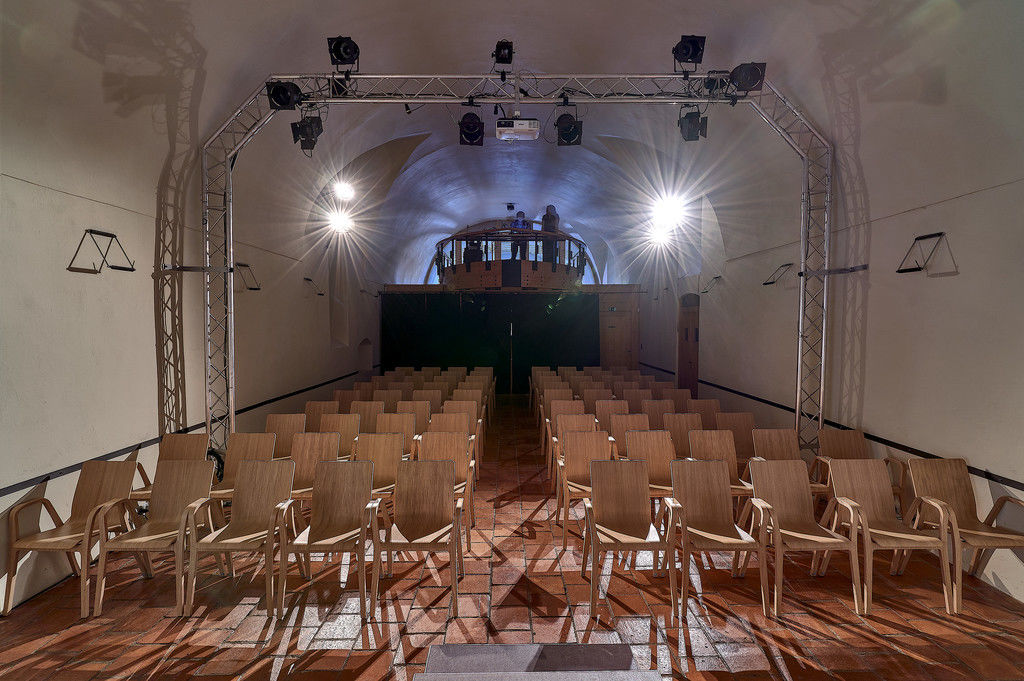 ---
A hall with a capacity of up to 80 people in a theatre-like arrangement is equipped with a stage, high-quality lighting and sound technology, a projector and a projection screen. With a table arrangement, the capacity is reduced to 20 to 30 people, depending on the layout of the tables and the orientation of the occupants. A café arrangement is also possible in cooperation with proven suppliers, with whom catering can also be arranged Café Bistro Citadela, accommodation Holiday Inn .
In the case of standing events, the capacity of the hall is 100 people.
In addition to the hall, there is also a space in front of the Old Burgrave's House (paved surface and part of the lawn), a foyer with a cloakroom and a toilet for spectators and facilities for performers (a cloakroom with a shower and WC).
The rental price also includes supervision of the event and basic cleaning afterwards, 80 wooden designer chairs and 10 tables, as well as 5 permits to enter the complex in a car. Parking is possible in K Pevnosti street (approx. 400 m away).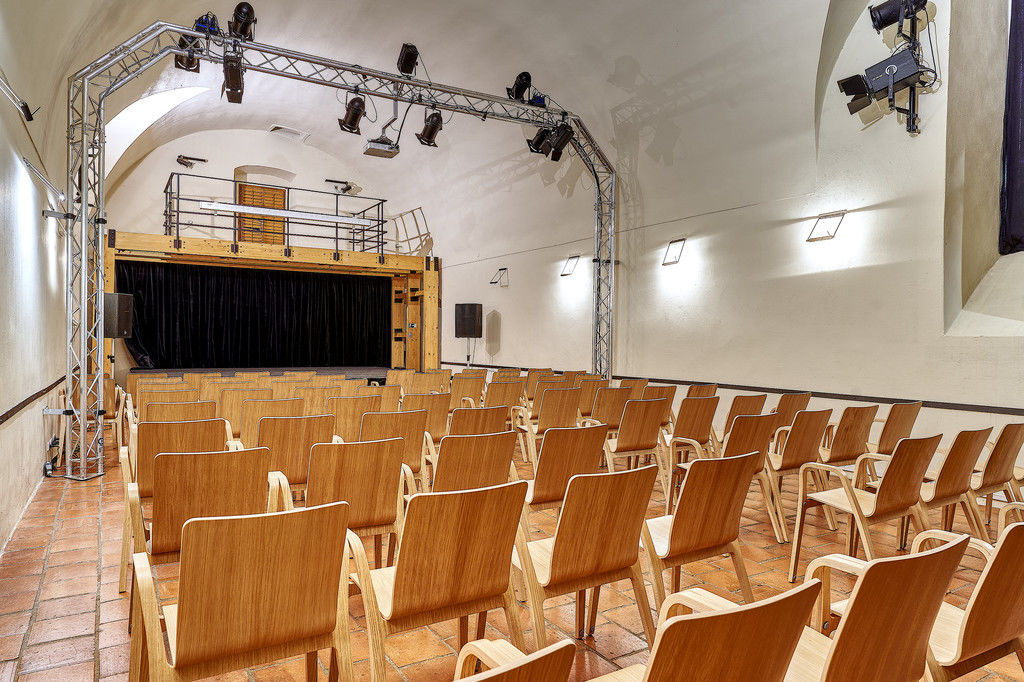 ---
RENTAL PRICE
*Special offer till the end of February. Just 2.500,-CZK/hour *
If it is necessary to operate (i.e. not only prepare) lighting or sound equipment, the presence of a Vyšehrad NCM technician is necessary for an additional CZK 1500 per the first two hours, CZK 500 for each additional thereafter.
Events in the area in front of the Old Burgrave's House are set to end at 22.00 at the latest, inside events at 0.00. For lectures, cultural or charity events, a discount is possible by prior arrangement.
Common rental price:
- per hour of an event: CZK 5,500 + VAT
- per hour of preparation: CZK 2,500 + VAT
PDF
Renting the Old Burgrave's House (in Czech only)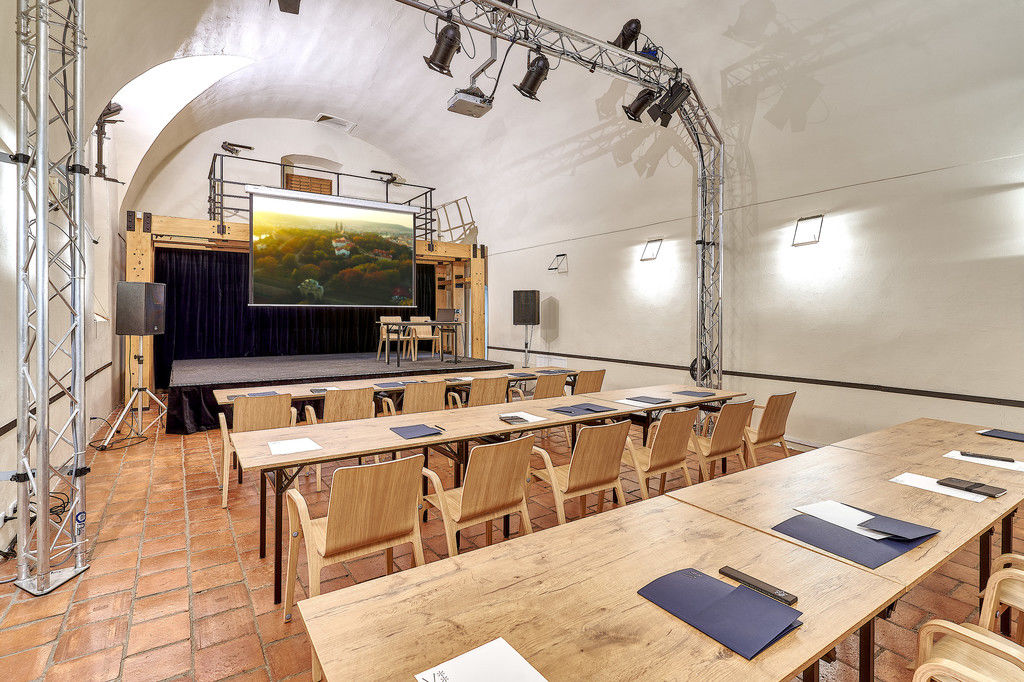 ---
THE HALL'S TECHNICAL PARAMETERS
Capacity: 80 seated persons/20-30 persons with table arrangement/100 persons standing
Stage: 5 x 4 x 0.6 m + 2pcs access stairs
Auditorium: 6 x 10 m
Chairs: 80 pcs
Tables: 10 pcs (80 x 138 cm)
Lights: FHR 1000 2 pcs, FHR 500 7 pcs, PAR 56 6 pcs, Manfroto tripod 2 pcs, ETC Coloursource light operator
Sound: Passive speaker Dynacord 2 pcs, active speaker RCF 708 2 pcs, speaker stand 2 pcs, microphone tripod K&M 4 pcs, Shure SM58 2 pcs, sound console Allen & Heath ZED-12FX
Projector: Full HD resolution with HDMI input with brightness of 5000 ANSI placed on a truss on the ceiling in front of the stage
Laptop: (for the projector) + presenter (remote switch for presentations)
Projection screen: 185 x 290 cm, electronic rolling, fixed above the stage